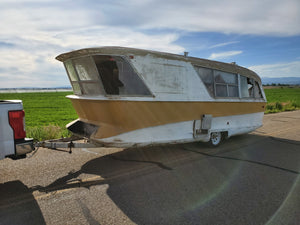 Third rare Holiday House Geographic discovered in Utah: The Audio Field Guide to Vintage Trailers' podcast interview with Casey Kielbasa.
We recently received a message from Casey Kielbasa at our oops@vintagetrailerfieldguide email. We created this account as a place for our readers to inform us of any factual errors or oversights in the Field Guide that we should correct in future printings and editions. We've received a handful of these since the launch of the book and expected the typical correction of a year or suggestion for a manufacturer we hadn't included.
But to our surprise, Casey wanted to let us know that we'll need to update the Holiday House history on page 150 of the field guide. We stated there are TWO known surviving Model X Geographics, but he had just discovered number THREE in Utah! Thanks for the info Casey, and we'll be updating the book for its third printing which is nearly upon us.
Casey told us that after nearly a decade of coveting its wraparound windows and space-age shape, he finally decided to track down the trailer's owner and make a deal. The deal of the century if you ask us.
The 1961 Holiday House Geographic was a unique collaboration between David Holmes Jr. (The David of Harry & David) and industrial engineer/car designer Chuck Pelly. You can see Mr. Pelly's race car background in the lines of the Geographic's fiberglass body.
The price of Holiday House trailers, astronomically high, neared the price of a home at the time. So, despite its aerodynamic design, the Geographic didn't fly out of the showroom. (To learn more and see some of the other Holiday House models, order the Illustrated Field Guide to Vintage Trailers from us, and we'll even sign your copy).
Casey sent us a few photos of his find, and as you can see, there is much work to be done on it. He has decided that this fantastic trailer deserves to be restored by experts and he is selling it.
Thank you, Casey, it's great news to anyone who has salivated over Flyte Camp's incredible restoration of the second known surviving Geographic (see the last photo below, shot at the 2018 Pismo Beach Vintage Trailer Rally by Carl Jameson). As a consolation for letting the trailer go, Casey told us he'd like to order one of our Geographic coffee mugs to remember it by.
Anyone interested in buying Casey's Holiday House can contact him at holidayhousegeographic@gmail.com.
---
1 comment