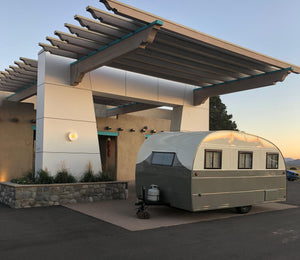 Field Report: Vintage Trailer Supply Grand Opening festivities include Field Guide presentation.
Vintage Trailer Supply held a grand opening of their new showroom in Santa Fe, New Mexico, September 13-15, 2019, and we were invited to give a presentation on The Illustrated Field Guide to Vintage Trailers. We were happy to accept since we'd now be considered leading experts in the industry (that's how Steve Hingtgen flatteringly pitched it to us.) A few weeks before the event, we recorded a podcast with Steve about the grand opening. You can take a listen to it here:
We ended up splitting the field guide team into two for the weekend. Bob and his wife Deirdre headed out to the Oregon coast to attend the South Beach Rally in Newport, Oregon. Carl and his wife Sharon made the trek to Santa Fe. Both Deirdre and Sharon, who often go unmentioned, are critical members of the field guide team. They have helped to create the field guide from its incarnation through production, printing, and marketing. 
Vintage Trailer Supply's showroom is just off I-25N, the main route through the desert between Albuquerque and Santa Fe, in the former location of KCHF-TV Christian television station. The satellite dishes are gone, but it still has an antenna tower outback that broadcasts its previous life and is currently a cell tower of prodigious strength.
The building has been completely remodeled and shines with a southwest flair and a gleaming showroom of vintage trailer supplies. There are new displays of tires, lights, and other trailering essentials. Big-screen monitors, displayed vertically, harken back to Vintage Trailer Supply's former web-only life. The field guide holds a place of honor next to its inspiration "Teardrops and Tiny Trailers" by Douglas Keister.
The weekend of events started Thursday night with a VIP event in the outside garden of the gallery, followed by three days of presentations on vintage trailers, and a country music concert with Ruthie Collins. It wrapped on Sunday with a visit to MeowWolf – an immersive art experience. In between, there were southwestern inspired food trucks and a cooking demonstration. Did I mention rare vintage trailers were surrounding the building? You really should have been there.
The presenters included some of the most well-known experts in vintage trailering, like Paul Lacitinola of Vintage Camper Trailer Magazine, Justin and Anna Scribner of Flyte Camp, Jim Polk of Polk Associates LLC, Tim Heintz of Heintz Designs, and Denny Stone of Southern California Vintage Trailer Design. Mona Heath was there to represent WBCCI Airstream Club International, Maurrie Sussman talked about Sisters on the Fly, and Forrest Bone told the story of Tin Can Tourists.
The main take away from the speakers: vintage trailering is thriving and will continue to grow into the foreseeable future. As far as the Field Guide to Vintage Trailer's speech went, Carl, accompanied by Bob's artful graphics, told the story of how two dumbasses rebuilt a vintage trailer and then went on to author The Illustrated Field Guide to Vintage Trailers. It went well. At least Steve Hingtgen said it did.
---
1 comment