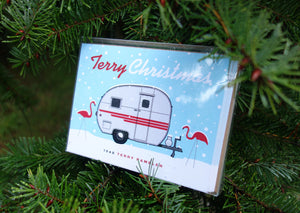 Holiday deals from the Illustrated Field Guide to Vintage Trailers!
We want to thank you for a great year! The field guide launched in February and by September it went into its third printing. So, we got excited by the field guide's reception and came up with some fun items that we hope you'll like.

As you can see, the field guide makes a great stocking stuffer! We sized the Illustrated Field Guide to Vintage Trailers to be handy in the field, but it also fits great in a stocking! It's a perfect gift for the vintage trailer enthusiast in your life.

And since you've been so good this year we came up with some special deals because we can.

If you already own the field guide, but would like to buy a fresh signed-by-the-authors copy use the code "NICE" during checkout to get yourself (or really any one of your friends, family, or rally buddies) a field guide for twenty-bucks. ($20.00, plus shipping.) That's $5 off the regular price of the signed copies.

If you love vintage trailers, the holidays, and holiday-themed vintage trailer puns, then you need to check out our new greeting cards and coffee mugs.

Their cute, collectible, and very punny. And best of all holiday cards and mugs are on sale for 20% off. Use the code "NICE" during checkout and you'll be almost all the way into the holiday spirit. (20% off, plus shipping.)

If you order the field guide, mugs and cards you'll only need to enter the code "NICE" once. (That's the beauty of math and computer coding.)

Bob says that if you add whiskey to your coffee in the holiday mugs you get into the holiday spirit fast. Offer ends on December 10, 2019.
This mug and many others are available with or without the holiday greeting. Meaning there are hundreds of vintage trailer mugs available from the website. Find your favorite model.

We create custom mugs too - so you can get your exact trailer model on mug.

You can buy any of the above at our website: www.vintagetrailerfieldguide.com

Please read our blog and listen to our podcast: The Audio Field Guide to Vintage Trailers. We recorded multiple episodes this summer that are meant to inform, educate, and entertain you. They'll be up just before Christmas.

Read our column in every issue of Vintage Camper Trailer Magazine.



Enjoy the season,

Bob and Carl
---