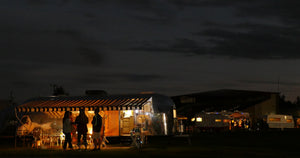 The Mt Baker Vintage Trailer Rally is Big!: The Audio Field Guide to Vintage Trailers' podcast interview with organizer Rene Perret.
Planning an event is tough work. When that event includes over 200 vintage trailers it gets even trickier. Rene Perret, who co-owns Downriver Vintage Trailer Restoration with her husband Jeremy, talked with us about what it's like to plan Washington state's largest vintage trailer rally and why after taking it over three years ago she still comes back for more. 
Also, enjoy our first installment of Vintage Trailer Glossary Terms, where you'll learn that a canned ham is more than just what's for dinner.
The Mt. Baker Vintage Trailer Rally will be held on September 3-9 in Lynden, WA and requires no pre-registration, so hitch up and head toward the Canadian border. We'll see you there!  For more rally information click here.
Visit the The Audio Field Guide to Vintage Trailers podcast page for more interviews and information about vintage trailers and the people who love them.
---