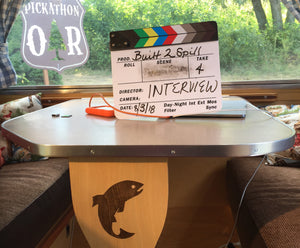 The Field Guide's 1958 Cardinal trailer makes its second appearance at Pickathon
Photo by Deirdre Thompson 
The Pickathon music festival in Happy Valley, Oregon tapped us again to use our vintage trailer for this year's series of band interviews. The Field Guide to Vintage Trailers' corporate headquarters, aka "The Canned Ham," served as both a recording studio and backdrop for video interviews at the annual music fest. The vintage style of our Cardinal fit right into the scene that featured multiple stages tucked into various wooded settings, along with campsites for the many attendees that stay the duration of the multi-day event.
Along with the interviews, director Patrick Weishample also shot this beautiful series of Polaroid portraits of artists Karma Rivera, The Marias, and Sudan Archives in front of the trailer:
We can't wait to see how the 2019 interview videos come together, but until then here's a sampling of last year's. See more interviews on our youtube page or go to Pickathon's to see live performances and more.
---