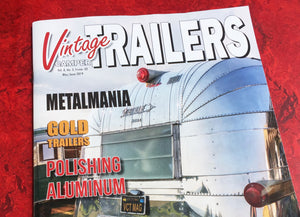 "Field Guide" authors tapped as regular contributors to Vintage Camper Trailers Magazine.
The Illustrated Field Guide to Vintage Trailers and Vintage Camper Trailer Magazine have teamed up to create an ongoing series of articles about...you guessed it...vintage trailers. The pieces have been appearing in the magazine since the April/May 2019 issue.
Bob Thompson said, "What we're trying to do is to write more in-depth articles based on the entries in the field guide, but with updated information, new photos, and illustrations." Who's kidding who here? Bob didn't say that, but he could have said it if it was written down for him.
Carl Jameson didn't go on to elaborate on how the articles give them "the opportunity to write about trailers that didn't make into the field guide but deserve their place in history. We look forward to articles about unique models, longer trailers, and Canadian models." 
The first article, On The Road to The Illustrated Field Guide to Vintage Trailers, introduced us to Vintage Camper Trailers' readers and told the story of our 5-year journey creating the The Field Guide. We've also covered the basics of body styles as a crash course for vintage trailer newbies to help them "fake their way through their first rally." Another regular feature of the articles is an illustrated sidebar called Vintage Trailer Field Identification that works like a mini Field Guide, providing insights and spotting tips to help identify manufacturers and models as they evolved over time.
The subject of our November/December 2019 article is Buying Trends in 2020. Read to the end, and you'll discover our line of holiday mugs and cards.
If you have any article ideas that you'd like us to explore, please send us an email to info@vintagetrailerfieldguide.com.
---