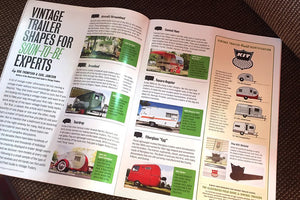 Vintage Trailer Shapes for Soon-To-Be Experts
A lot of vintage trailer aficionados fall into owning a vintage trailer without much knowledge about them beyond, "Hey, that looks cool!" Which is cool, but if you are looking into buying a vintage trailer and want to be able to fake your way through your first rally – here's a quick wrap up of the basic vintage trailer body styles.
But first, a caveat: this blog won't explain the benefits of one shape or size over the other, really that's a matter of taste and how you plan to use your trailer. Not to mention that a bathroom is an essential middle of-the-night amenity for many. And as every would-be trailerist soon learns, this can provide hours of campfire discussions.
Over the decades there have been hundreds of trailer manufacturers and thousands of individual models. The creativity displayed in trailer design seems unlimited, and we discover rare models at every rally we visit. The following is a small sample of the type of information that newbies and old hands can find useful from The Illustrated Field Guide to Vintage Trailers.
(Because we believe, like all vintage trailer hobbyists, in recycling, reusing, and re-purposing this blog post has been adapted from our article in July/August 2019 edition of Vintage Camper Trailers Magazine.)
BODY STYLES
---