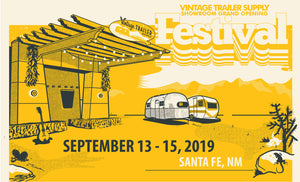 Vintage Trailer Supply is Throwing a Party!: The Audio Field Guide to Vintage Trailers' podcast interview with Steve Hingtgen.
For years, Vintage Trailer Supply has been an online supplier of parts and products for vintage trailers and the go-to resource for those tackling restorations. In fact, our 1958 Cardinal is chock full of their products! Owner Steve Hingtgen has decided it's time for a brick and mortar showroom/travel destination and is throwing a festival to launch it September 13-15, 2019 in Santa Fe, New Mexico. In our latest podcast interview Steve talks about the event and how he started Vintage Trailer supply.
The grand opening event will be a 3-day celebration with national industry leaders, live music, exclusive promotions, and Santa Fe culture. We should probably mention that we are honored to have been invited as a guest speaker and to sign books at the event (we're putting final touches on the presentation right now. Tick tock...) 
For more information on the event visit the Vintage Trailer Supply Grand Opening Festival page. 
---